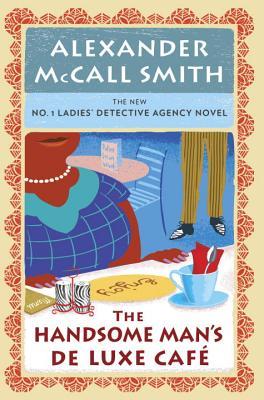 The No. 1 Ladies' Detective Agency often helps people find things they have lost. But they have never had to help a client find herself—until now, in this latest installment of Alexander McCall Smith's best-selling and beloved series.
A kindhearted brother and sister have taken in a woman known only as "Mrs."—a woman with no memory of her name or of how she came to Botswana. And so it's up to Precious Ramotswe and her new co-director, Grace Makutsi, to discover the woman's identity.
Meanwhile, motherhood proves to be no obstacle to Mma Makutsi's professional success. As she settles into her role as partner at the agency, she also launches a new enterprise of her own: the Handsome Man's De Luxe Café, a restaurant for Gaborone's most fashionable diners. But even Miss 97 Per Cent isn't fully prepared for the temperamental chefs, drunken waiters, and other challenges that come with running one's own business. Help may come from an unexpected source, if only Mma Makutsi can swallow her pride and ask.
And next door to the No. 1 Ladies' Detective Agency, Mr. J.L.B. Matekoni is all too familiar with the difficult decisions of business owners. He is finally forced to make a tough choice, one that will bring major changes to both Tlokweng Road Speedy Motors and the No. 1 Ladies' Detective Agency—and that will require all of Mma Ramotswe's finesse and patience to sort out.
With sympathy and indefatigable good humor, Mma Ramotswe and her friends see one another through these major changes and discover along the way what true friendship really means.     – from GoodReads
My Rating:  ★★★★
My Thoughts:  
A return to the world of the No 1 Ladies Detective Agency is by now like paying a visit to old friends as we enter the world of Mma Ramotswe and her array of friends, family and colleagues, including all the old favourites – Mma Makutsi, Mr J L B Matekoni, and Mma Potokwani, and the unwelcome but necessary menace that is Violet Sephotho.
A new instalment of the series is always something to look forward to and to savour upon reading. I love the gentle, heart-warming tales, and the leisurely pace at which the story unfolds, combining the detectives' investigations with reflections on modern behaviour and morality and everyday life. The stories are written in a straight forward, simple way which makes them highly readable. Add a dose of gentle humour and firm friendship into the mix, and you're onto a winner.
Now for the specifics – a fall in business at the garage sees Mr J L B Matekoni forced to dismiss Charlie, who has still not passed his exams and therefore remains unqualified. Mma Ramotwse hates seeing him suffer, and finds him a role within the detective agency, much to the initial disapproval of Mma Makutsi, who had always had a fairly turbulent relationship with Charlie.
The new trio become involved in the case of a woman who claims to have lost her memory and therefore her identity. After Charlie's unique attempt at a stakeout is bought to an unexpected conclusion, further investigation reveals the case may have darker undertones, which leaves our trio with decisions to make regarding what is right and what is for the best.
Elsewhere Mma Makutsi has opened a restaurant, but is faced with early staffing problems, and fails to heed the warnings from her ever-vocal shoes (I love this quirk, that she imagines her shoes talk to her), leading to potential disaster for the new enterprise. This is only made worse when Violet Sephotho plays restaurant critic.
This book is another engaging addition to what remains a charming, thoughtful series, populated by a lovable cast of characters, and I really recommend it. For newcomers to the series, while it wouldn't by any great detriment to read this book to get a taste for the series, I'd really suggest you start from the very beginning – meet the characters and follow their journeys from the outset, and watch the relationships and friendships develop gradually.